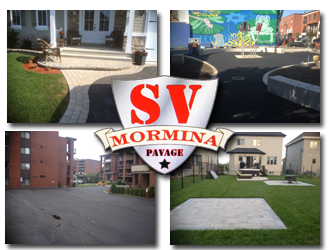 Welcome to Pavage SV Mormina
Since 2003, Pavage SV Mormina have performed their projects with profesionalism and expertise in the domains of residential and commercial asphalt paving and installation of uni-stone.
With over 20 years of experience, their skilled team operates modern equipment and work with high quality materials.
All of their projects are guaranteed and will exceed your expectations as they assure quality work at competitive prices.

We are members of :
- Régie du bâtiment du Québec - RBQ # 8301-5230-31
- Association de la Construction du Québec (ACQ)
- Commission de la Construction du Québec (CCQ)
WE PROVIDE OUR SERVICES WITH 100% SATISFACTION